Jhago Genji
BILL'S NOTES: UPDATE YOUR CHARACTER SHEET AND WIKI PROPERLY WITH LINKS TO THE LAST UPDATED ADVENTURE. REMOVE THIS MESSAGE AFTER COMPLETION.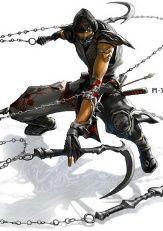 "Brother always beat me at hide and seek." ~Jhago Genji
Character Sheet Link
Player: Undersiej
Race: Shadowtouched Human
Aliases: Kylar Stern, Spike Tendril
Class: Wuxian Sage 1
Alignment: Neutral Good (Leans True Neutral)
Appearance: A tall, dark-haired warrior oft seen twirling a flattened silver piece between his fingers. Characteristically covered in cloth and light armor, Jhago is ready at a moments notice.
Personality: Jhago is seen as strange to many, and something to be feared by most — though not just for his size, heritage and scars (which already make him stand out, when exposed to sunlight). When in relative privacy he can be seen picking his nose and eating his fingernails, obsessively twirling his flattened coin in his right hand, sucking his thumb and muttering to himself… traits that most perceive as him being a half-wit or at least mildly insane. To the contrary, he is as sound a mind as a man in his state could be, and what little words he'll say are loaded with deeper wisdom than his somewhat infantile mannerisms would imply.
His expression is characteristically blank or otherwise stony, showing flashes of humanity only when reaching high levels of stress and emotional extremes. Though his face can keep a secret, the man has a brute's mouth, even when uncalled for. Usually, though, he prefers to keep his mouth shut and let others do the talking… unless its related to money, or the night markets in general. He can be quite chatty about those things… then again, hes chattier about garroting his pickpocket.
Background: Jhago was born to a noble family of Silverbrow Humans, who just so happened to have a contract on their entire clan for reasons unknown. Luckily, the oddball was saved by his older brother and only surviving relative and trained in the basics of the Sublime Way. Two years ago, his brother left on a pilgrimage to achieve mastery of the Way, though hasn't been heard of or seen since. Having few means of income himself, Jhago has decided to go adventuring, in order to sharpen his own skills, to acquire his own fortune, and to recover a brother lost on his Way. He just hopes he'll find better work than as a hired thug.
Character Log:
10
#
Adventure
Date
XP Gain
GP Gain
Items Gained
Items Lost
Description
1
Character Creation
10-22-2011
0
1800
Traveler's Outfit
2
Character Creation (buying)
10-22-2011
0
-1766.47
Masterwork Toolsx5 [Acrobatics (Knee, Elbow, and Shin guards), Stealth (midnight blue/grey died clothing), Perception (Sundark goggles), Intimidate (spiked collar), Sense Motive (book: pocket-book of poker tells)]; Jug of Shapesand; Spear, Jump (Masterwork); Chain, Balled (Masterwork); Chain, Scarf (Masterwork); Bardic Cloak; Sundark Goggles; Wizard's Spellbook; Nekodex2 (Tiger Claws); Silent Shoes; Thieving Helmet; Ward cestus; Pack, framed; Small Magnet (palm of left glove); -Coward's Shield; Tonlet, short; Spaulders; Money Pouch; Silk Sash; Waterskin; Twine (50'); Pouch, Belt; Crowbar; Filter Mask; Case; Codpiece; Heavy Blanket; Garlicx1; Marblesx5; Insectbanex2; Canvas; Flaskx3; Hammer; Nails; Oilx2; Torchx2; Signal Whistle; Whetstone; Riding Dog + Pack Saddle; Magic Tattoo of Prestidigitation 1/day, Tonlet (Short), Spaulders, Masterwork Dastana, Masterwork Backpack, Breath Bag
Traveler's Outfit
3
Adventure 1
Date
Blah
Blah
Blah
Blah
Blah
4
5
6
7
8
9
10
11
12
13
14
15
16
17
18
19
20
21
page revision: 37, last edited:
05 Nov 2011 15:38